During the Adoption Awareness Month 2020, Families of Joy Foundation continued form its discussions in the 2018 Show to put focus on children and the need to engage them in making decisions on Adoption
.
Joining the debate were Dr Vandana Kumar (Joint Secretary, Min of Industry and Commerce), Ms Vandana Nangia (Child Counsellor) and Ms Sanhgmitra (NPISID). The show was anchored by Mr Amit Arora.
This show focussed on the potential that children can reach if adoption process and decisions are centered around their needs.
Joining the show remotely were Mr Avinash Kumar (Founder, FoJ), Ms Meera Marthi (Direct, WAIC), Master Akash, Miss Astha and many other children across the country.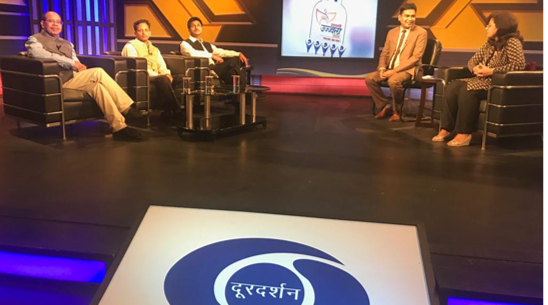 During the Adoption Awareness Month 2018, Families of Joy Foundation participated in a panel discussion on Adoption on National TV. India's national broadcaster Doordarshan hosted a show on Adoption under its New India Sankalp series. The panel discussion saw eminent representatives across the sections of the society come on a single platform to talk about adoption. Joining our founder – Mr Avinash Kumar in the conversation was Col Deepak Kumar (CEO CARA), Mr Ashish Srivastava (Joint Secretary, Ministry of Women and Child Development) and Dr Shefali Gulati (Professor of Pediatrics, AIIMS). In addition Dr Aloma Lobo (Bangalore), Ms Meera Marthi (Hyderabad), Dr Vandana Kumar (New Delhi) and Mr Soham (New Delhi) joined the event remotely.
The host highlighted a young adoptee's perspective on adoption, family member's experiences, challenges associated with differently-abled children, policy maker's take on the long wait for adoption, a medical practitioner's insights on adoption and innovations made by the WCD Ministry to enable adoptions in India.
Snapshots from the 2020 Show
Snapshots from the 2018 Show