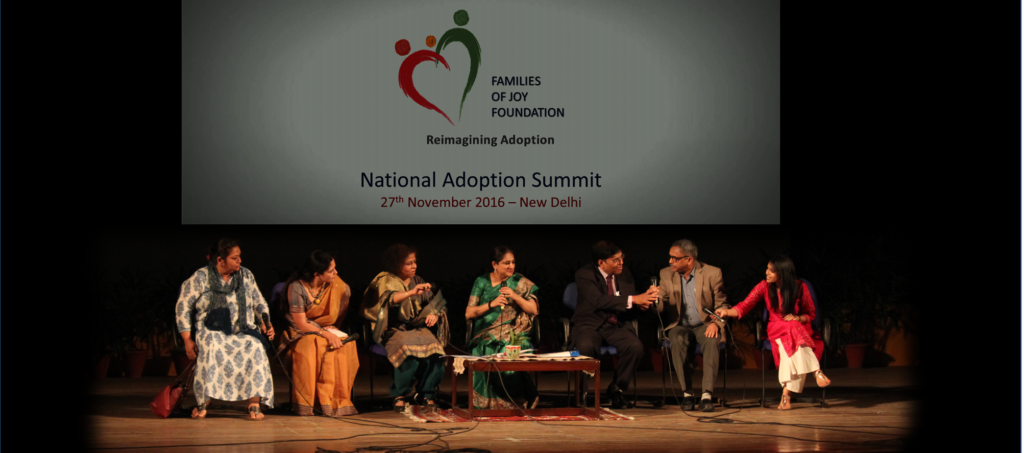 Families of Joy Foundation conducted the first ever unique dialogue on Adoption in Public domain, engaging with ALL the stakeholders in adoption. The National Adoption Summit was hosted in New Delhi on Nov 27, 2016 in the globally acknowledged Adoption Awareness Month and brought together on a single platform representatives from the Ministry of Women and Child Development, Central Adoption Resource Authority (CARA), Educators, Adoption Agencies, Counsellors, Lawyers, Medical Practitioners, Parents and Young Adults in adoption.
Ms Leena Nair, Secretary, Ministry of Women and Child Development was the Guest of Honour. Other speakers included Col Deepak Kumar – CEO (CARA), Ms Abha Sahgal – Principal (Sanskriti School), Dr Vinita Bhargava – Researcher and Professor (Lady Irwin College) and Dr Saraswati Srinath – (Founder, Sudatta).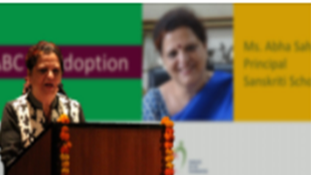 Panel Discussion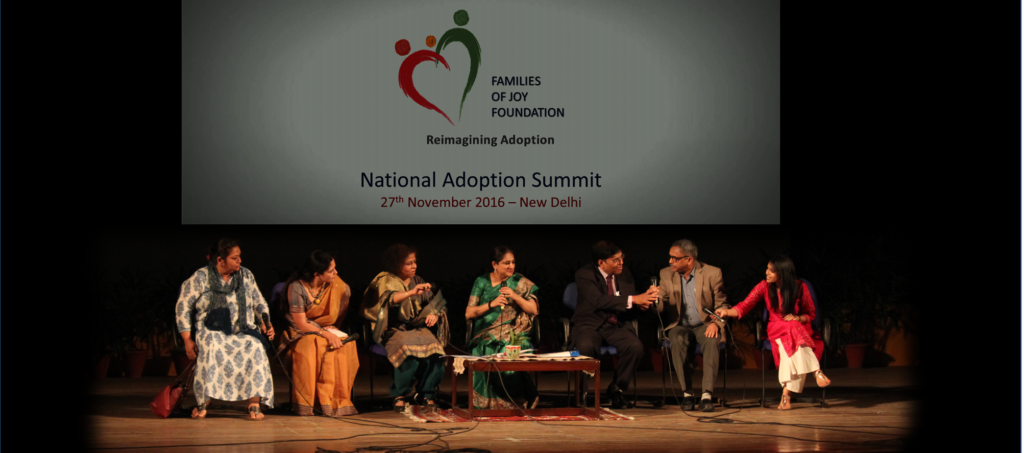 The highlight of the Summit was an all-inclusive Panel Discussion that had representatives from all the stakeholders in adoption, namely, Ms Rashmi Saxena Sahni (Joint Secretary, Ministry of Women and Child Development), Dr Rajesh Sagar (Professor AIIMS and Chairperson NOC Committee), Ms Meenu Arora (Counsellor, Sanskrit School), Ms Seema Khandekar (Counsellor and Social Worker), Dr Rajeev Varshneya (DRDO, Parent-in-Adoption) and Ms Priya Srinivasan (Danseuse and Young Adult-in-Adoption)
The panelists debated around the need for creating awareness on adoption in the civic society, the urgency to look beyond infants when choosing to adopt, breaking myths associated with differently abled children, bringing process efficiency in clearing the backlog at the adoption agencies, need for embracing Positive Adoption Language and a child-centric approach to adoption.
Role Plays
Members of Families of Joy put together short skits touching upon the pre-adoption, post adoption and teenage issues. The Role-Plays struck a chord with the audience in sensisitzing them to nuances that families in adoption experience, learn to live with, and adapt to.
The skits ranged from bringing around an elderly family member into a conversation on adoption, to empowering a child -in-adoption at school, to a bubbly dialogue between a teenage son and his mother, to questions raised by a daughter on her complexion being different from that of her mother. The role plays intended at preparing families-in-adoption and civic society alike to unconventional situations and how to address them with a positive mindset